Shirt Size Chart
The tailoring of a shirt is a statement of an individual sense of style and personal character. Whether slim and body-fitted or wide and comfortable, only when a shirt fits your type of figure optimally, is a harmonious, holistic picture created.
For this reason Seidensticker offers five different fits for every silhouette and every style - from fashionably slim, classically straight or even leisurely casual. To determine your perfect fit, just measure your neck width, then the chest and waist measurements following on to the length of sleeve. On our sketch, you can find out exactly where to place the measuring tape.
All information in the shirt size table below is given in centimeters. Along with this use our Seidensticker Shirt Fit Finder, which will give you your perfect Seidensticker fit after entering your body measurements.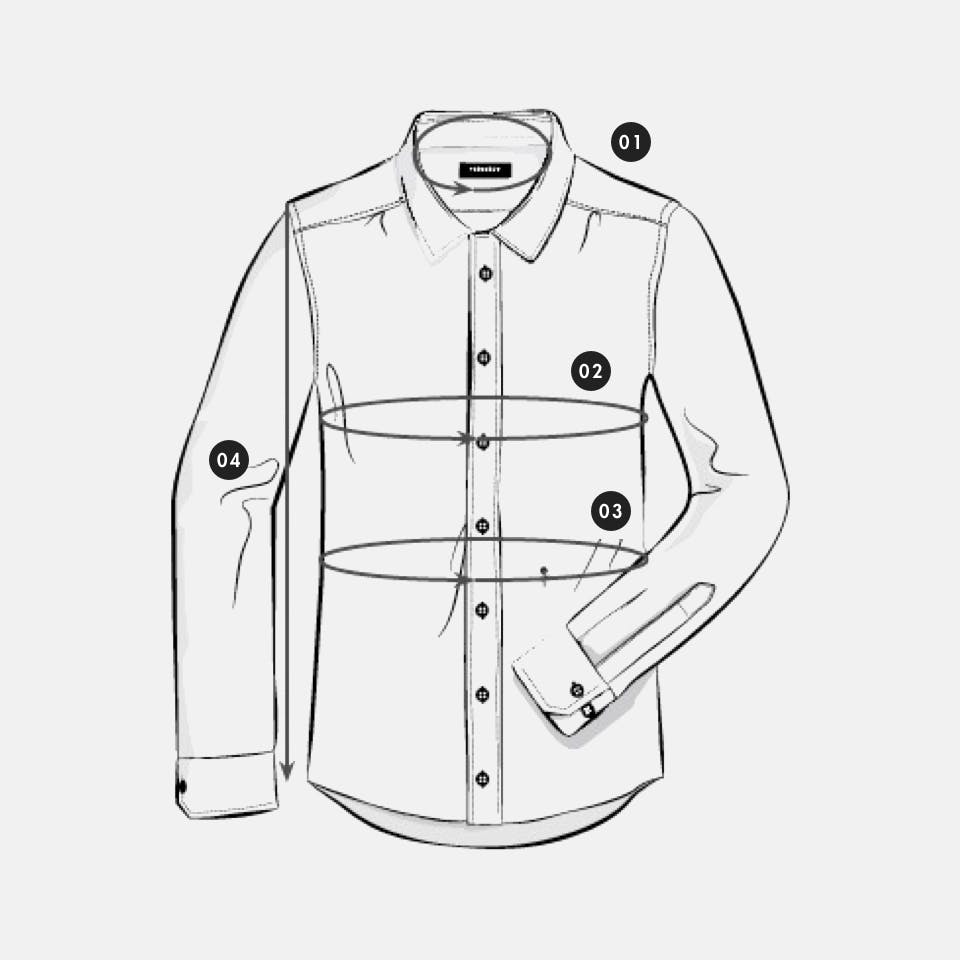 | | XS | S | M | L | XL | XXL | 3XL | 4XL | 5XL | 6XL |
| --- | --- | --- | --- | --- | --- | --- | --- | --- | --- | --- |
| | 36 | 37/38 | 39/40 | 41/42 | 43/44 | -- | -- | -- | -- | -- |
| | 94 | 102 | 110 | 118 | 126 | -- | -- | -- | -- | -- |
| | 78 | 86 | 94 | 102 | 110 | -- | -- | -- | -- | -- |
| | 66,5 | 66,5 | 66,5 | 66,5 | 67,5 | -- | -- | -- | -- | -- |
| | 23 | 23 | 23 | 23 | 23 | -- | -- | -- | -- | -- |
| Sleeve length extra long arm | 68 | 69 | 70 | 71 | 71 | -- | -- | -- | -- | -- |
| Back length normal + half sleeve | 76 | 77 | 78 | 79 | 80 | -- | -- | -- | -- | -- |
| Back length extra long arm | 80 | 81 | 82 | 83 | 85 | -- | -- | -- | -- | -- |
| | XS | S | M | L | XL | XXL | 3XL | 4XL | 5XL | 6XL |
| --- | --- | --- | --- | --- | --- | --- | --- | --- | --- | --- |
| | 36 | 37/38 | 39/40 | 41/42 | 43/44 | 45 | -- | -- | -- | -- |
| | 96 | 104 | 112 | 118 | 126 | 134 | -- | -- | -- | -- |
| | 82 | 90 | 98 | 104 | 112 | 120 | -- | -- | -- | -- |
| | 66,5 | 66,5 | 66,5 | 66,5 | 67,5 | 67,5 | -- | -- | -- | -- |
| | 23 | 23 | 23 | 23 | 23 | 23 | -- | -- | -- | -- |
| Sleeve length extra long arm | 70 | 70 | 70 | 70 | 70 | 70 | -- | -- | -- | -- |
| Sleeve length extra short arm | 59 | 59 | 59 | 59 | 59 | 59 | -- | -- | -- | -- |
| Back length normal + half sleeve | 76 | 77 | 78 | 79 | 80 | 81 | -- | -- | -- | -- |
| Back length extra long arm | 81 | 82 | 83 | 84 | 85 | 86 | -- | -- | -- | -- |
| Back length extra short arm | 76 | 77 | 78 | 79 | 80 | 81 | -- | -- | -- | -- |
| | XS | S | M | L | XL | XXL | 3XL | 4XL | 5XL | 6XL |
| --- | --- | --- | --- | --- | --- | --- | --- | --- | --- | --- |
| | -- | 37/38 | 39/40 | 41/42 | 43/44 | 45/46 | -- | -- | -- | -- |
| | -- | 108 | 114 | 122 | 128 | 134 | -- | -- | -- | -- |
| | -- | 94 | 102 | 108 | 114 | 120 | -- | -- | -- | -- |
| | -- | 66,5 | 66,5 | 66,5 | 67,5 | 67,5 | -- | -- | -- | -- |
| | -- | 25 | 25 | 25 | 25 | 25 | -- | -- | -- | -- |
| Sleeve length extra long arm | -- | 71 | 71 | 71 | 71 | 71 | -- | -- | -- | -- |
| Sleeve length extra short arm | -- | 59 | 59 | 59 | 59 | 59 | -- | -- | -- | -- |
| Back length normal + half sleeve | -- | 79 | 80 | 81 | 82 | 83 | -- | -- | -- | -- |
| Back length extra long arm | -- | 82 | 83 | 84 | 85 | 86 | -- | -- | -- | -- |
| Back length extra short arm | -- | 77 | 78 | 79 | 80 | 81 | -- | -- | -- | -- |
| | XS | S | M | L | XL | XXL | 3XL | 4XL | 5XL | 6XL |
| --- | --- | --- | --- | --- | --- | --- | --- | --- | --- | --- |
| | -- | 38 | 39/40 | 41/42 | 43/44 | 45/46 | 47/48 | 49/50 | 51/52 | 53/54 |
| | -- | 110 | 116 | 124 | 132 | 140 | 150 | 156 | 160 | 164 |
| | -- | 100 | 108 | 116 | 126 | 134 | 146 | 156 | 164 | 170 |
| | -- | 66 | 66 | 66 | 66 | 66 | 66 | 66 | 66 | 66 |
| | -- | 26 | 26 | 26 | 26 | 26 | 28 | 28 | 28 | 28 |
| Sleeve length extra long arm | -- | 70 | 70 | 70 | 70 | 70 | 70 | 70 | 70 | 70 |
| Sleeve length extra short arm | -- | 59 | 59 | 59 | 59 | 59 | 59 | 59 | 59 | 59 |
| Back length normal + half sleeve | -- | 82 | 82 | 82 | 85 | 85 | 90 | 90 | 90 | 90 |
| Back length extra long arm | -- | 87 | 87 | 87 | 90 | 90 | 95 | 95 | 95 | 95 |
| Back length extra short arm | -- | 82 | 82 | 82 | 82 | 82 | 82 | 82 | 82 | 82 |
| | XS | S | M | L | XL | XXL | 3XL | 4XL | 5XL | 6XL |
| --- | --- | --- | --- | --- | --- | --- | --- | --- | --- | --- |
| | -- | -- | 39/40 | 41/42 | 43/44 | 45/46 | 47/48 | 49/50 | 51/52 | 53/54 |
| | -- | -- | 120 | 128 | 136 | 146 | 150 | 156 | 160 | 164 |
| | -- | -- | 114 | 124 | 134 | 146 | 154 | 162 | 168 | 172 |
| | -- | -- | 65 | 65 | 65 | 65 | 65 | 65 | 65 | 65 |
| | -- | -- | 28 | 28 | 28 | 28 | 28 | 28 | 28 | 28 |
| Sleeve length extra long arm | -- | -- | 69 | 69 | 69 | 69 | 69 | 69 | 69 | 69 |
| Back length normal + half sleeve | -- | -- | 82 | 82 | 85 | 90 | 90 | 90 | 90 | 90 |
| Back length extra long arm | -- | -- | 87 | 87 | 90 | 95 | 95 | 95 | 95 | 95 |
| Back length extra short arm | -- | -- | 87 | 87 | 90 | 95 | 95 | 95 | 95 | 95 |